Who is Scott Swain?
Scott Swain is a South London based singer-songwriter. Having previously played in bands (Fire at Night, How To Dress a Monster, Ebo) 2016 saw him experiment with a new direction in his song writing. Drawing on influences from Americana, Country, and alt indie, he decided to follow a solo career.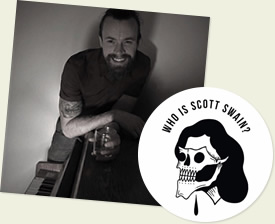 In 2017 he began writing and recording his debut EP. 'Goodbye Country, Goodbye Home' was released in May 2018 thanks to a successful kickstarter campaign. Being a fan of Cinema, each of Scott's tracks are about particular films which have left their mark on him, in one way or another.
Scott is set to release his second EP in August 2021. It was recorded with the producer Chris Coulter (Arcane Roots, Jamie Lenman, Reuben). The single from the EP is to be released late July 2021.